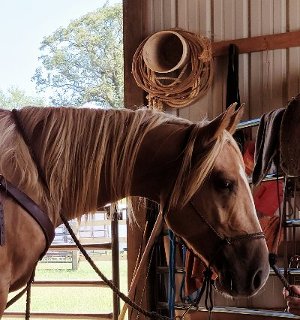 Breed:
Racking Horse
Foal Date:
4-14-21
Age:
3 yrs.
Color:
Palomino
Gender:
Gelding
Price:
Private Treaty
Height:
14.2 Hands
Weight:
900 Lbs.
Base Color:
Palomino
Additional Colors or
Markings:
( Not Specified )
Registration(s):
AQHA
This gorgeous guy is in your pocket kind of gelding. He just wants to please. He's going to be a dark palomino with the classic bulldog build. He's got a nice way of moviing and is so smooth. Lil Senor will make an arena horse deluxe, his attitude is willing and very trainable. He retains everything and is ready to take on trail rides with timber & ditches.
Our of Smart Little Ramrod and a double bred Poco Bueno mare this guy will have tons of heart and be sane & sound. Look at this guy is you're looking for a "keeper"