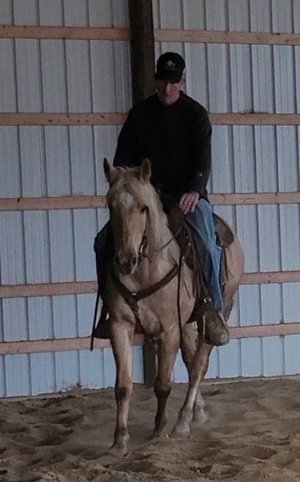 Breed:
Quarter Horse
Foal Date:
5-4-2018
Age:
4 yrs.
Color:
Palomino
Gender:
Gelding
Price:
Private Treaty
Height:
14.3 Hands
Weight:
900 Lbs.
Base Color:
Palomino
Additional Colors or
Markings:
( Not Specified )
Registration(s):
AQHA
This a golden palomino gelding that has had 30 days under saddle. He has a nice smooth lope with a nice handle. He's been started right and is ready for his next job. Big stout gelding that can handle any arena performance event.
His sire Smart Little Ramrod was a NRHA Futurity Fialist, top 10. NRBC Futurity Finalist, top 10, AQHA Superior Reining 77.5 pts. AQHA Superior Heeling 64.5 pts, qualified mutiple times for AQHA World Show, WFQHA World Champion Open Reining. Dam side goes to Colonel Dickens that has his NCHA certificate and the foundation greats of Poco Bueno.