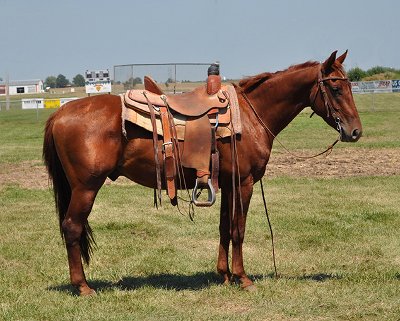 Breed:
Quarter Horse
Foal Date:
6/1/09
Age:
6 yrs.
Color:
Sorrel
Gender:
Stallion
Price:
Private Treaty
Height:
14.0 Hands
Weight:
800 Lbs.
Base Color:
Sorrel
Additional Colors or
Markings:
( Not Specified )
Registration(s):
AQHA
Boss Hoss is out of a really strong mare line that goes back to our mare, Little Lena Dox.
Then you have Smart LIttle Ramrod's Show Record: 2001 NRHA Futurity Finalist (9th), NRBC Futurity Finalist (9th), AQHA Superior Reining 77.5 points, AQHA Superior Heeling 64.5 points, AQHA World show qualified multiple times, WFQHA World Champion Open Reining, WFQHA Open Working Cow Horse Champion, Reserve Working Ranch Horse champion
Add the Colonel Dickens - NCHA COA and his proven producing Futurity winners, NBHA Youth Finalist, NBHA Gold Cup Finalist, AQHA World Show Qualifiers, IBRA Finalist, AQHA World Show Qualifiers.
The mare line going back to Lena Dox, who is a full sister to The Smart Look. The Smart Look is No #7 all time leading NCHA cutting horse producer . Finalist in NCHA Futurity, Non pro Superstakes and Derby.
This should give Boss the advantage to excell in anything that he is put to. With bloodlines that show no holes and are as blue blooded as you can get in the modern and foundation pedigrees, he has the beginnings of a great cow horse. Boss has the look and attitude that will turn alot of heads.