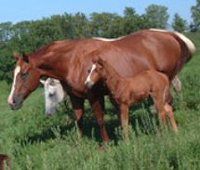 Breed:
Quarter Horse
Foal Date:
1/1/1981
Age:
25 yrs.
Color:
Sorrel
Gender:
Mare
Price:
Not For Sale
Height:
14.2 Hands
Weight:
1,000 Lbs.
Base Color:
Sorrel
Additional Colors or
Markings:
Blaze and White Socks
Registration(s):
AQHA
Sprat is one of the corner-stone broodmares of our breeding program. We have retained all of her colts but two during her broodmare career. We keep her two oldest sons to pony colts, herd in mares and do basic ranch work and her fillies continue to produce better than themsleves just like thier dam. All of her colts have a tremendous amount of power, speed, stamina, they are very easy keepers, and her progeny is always splashed with her trademark big blazes and high white socks. She is by AQHA Champion, Docs Jack Sprat, with 15 halter points, 14 western pleasure points, and 29 cutting points. He was an NCHA Derby Semi-Finalist, and earned his NCHA Certificate of Ability. Her dam was Enhanced Whim by Enhanced, an AQHA super horse.
Sprat is now retired but she is just as peppy as she was as a youngmare. We look forward to seeing how her fillies cross on Smart little Ramrod!