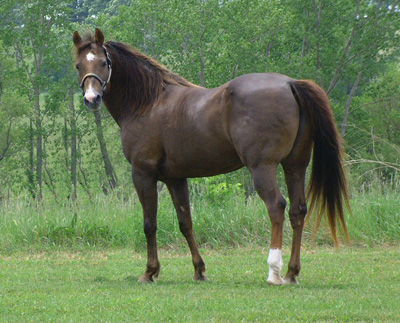 Breed:
Quarter Horse
Foal Date:
5/1/1987
Age:
20 yrs.
Color:
Chestnut
Gender:
Stallion
Fee:
$1,000.00
Height:
15.0 Hands
Weight:
1,100 Lbs.
Base Color:
Chestnut
Additional Colors or
Markings:
Star, snip, & white socks
Registration(s):
AQHA
- NCHA COA
- Produced Futurity Winners
- Produced NBHA Youth World Finalist
- Produced NBHA Gold Cup Finalist
- Produced Muliple Money Earners
- Produced AQHA World Show Qualifiers
- Produced IBRA Finalist
- Produced multiple point earners
- 2001 listed in SPEEDHORSE top 20 Futurity Sire List
Dickens is a son of the legendary Colonel Freckles. He has earned his NCHA certificate of Ability and passed his athleticism, personality, and intelligence on to his offspring. He has earned money in the Open, Amateur, Ladies, and Youth NCHA classes. He has sired Superior Team Penning ROMs, Reining ROMs, Futurity Champions, and point and money earners in the Barrels, Western Pleasure, Roping, Reining, and Halter. Dickens has become a truly versatile sire. (Check out the performers page and you'll see what we mean!)

Dickens comes from a long line of athletes himself. His sire, Colonel Freckles, requires no introduction. He is a Hall of Fame sire and has produced futurity winners. Dicken's dam, My Ginger Cookie, had an NCHA COA and an AQHA ROM. She also produed many money earners and her full sister Ginger Dee was an NCHA Futurity Champion. Dickens also goes back to greats like MR Gold 95, Hollywood Gold and Rey Jey.

Colonel Dickens is a versatile horse himself. He has seen limited showing in cutting and has been been used extensively at the house. We use him to push cattle, pony colts, and to bring in the mares. He is always a gentlemen and always had a cool head about anything new. Fortunately, his colts have inherited this wonderful trait which is a great asset in the show pen and in the training process. We believe this has been the driving force that has made his colts versatile horses that have excelled in so many different events.

In an industry where horses are being bred with intense Doc Bar bloodlines Dickens is an excellent outcross with no Doc Bar in his lineage. He has performing get out of various bloodlines but the Doc Bar cross is a very good one. Check out our performers page, better than half of his performing offspring have Doc Bar bred dams.

Breeding fee includes first semen shipment or first 5 day stay at the clinic!