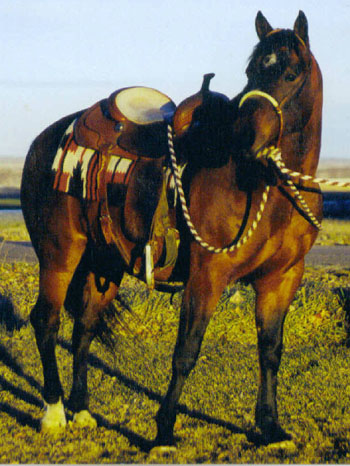 Breed:
Quarter Horse
Foal Date:
1/1/1992
Age:
17 yrs.
Color:
Bay
Gender:
Stallion
Fee:
$1,000.00
Height:
14.2 Hands
Weight:
1,000 Lbs.
Base Color:
Bay
Additional Colors or
Markings:
( Not Specified )
Registration(s):
AQHA
Lethal is a son of Docs Remedy by a producing daughter of the famous all around sire Sugar Bars. Lethal is chock full of cow and has an incredible stop. However, if you know bloodlines this should be no surprise because his pedigree is filled to the gills with good looks, cow sense, speed and brakes. Lethal was designed to be an all around horse. If you take a close look at his pedigree it holds many very reputable race, show and rodeo horses; Lucky Blanton, Dee Dee, Doc Bar, Poco Tivio and Three Bars. Also he comes from a line of strong mares; Frontera Sugar, Teresa Tivio, Dandy Doll and Sugar Momma (Lethal's dam and NRCHA producer).
Sign up to join our mailing list so you will be able to keep up with the latest accomplishments of Lethal Remedy.