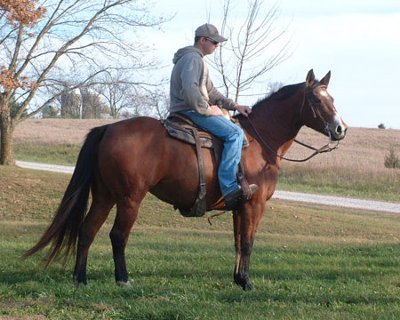 Breed:
Quarter Horse
Foal Date:
04/01/01
Age:
8 yrs.
Color:
Bay
Gender:
Mare
Price:
$3,500.00
Height:
15.0 Hands
Weight:
1,200 Lbs.
Base Color:
Bay
Additional Colors or
Markings:
star, strip, & white socks
Registration(s):
AQHA
Thanks Gil!
This is a realy nice mare that is real even tempered and gentle. Good to catch and handle, neck reins and she's a tank! Pull her out of the pasture, saddle up and take off with no issues and no warm-ups are necessary. She has headed and heeled and would be a great horse to use to check and doctor cows. Not a spook or water jumper. Must come and see to truly appreciate this girl!
VIDEO