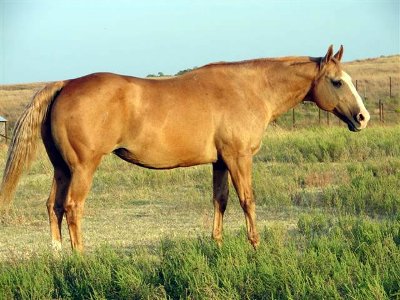 Breed:
Quarter Horse
Foal Date:
1/1/1985
Age:
22 yrs.
Color:
Champagne
Gender:
Mare
Price:
Not For Sale
Height:
14.2 Hands
Weight:
1,000 Lbs.
Base Color:
Champagne
Additional Colors or
Markings:
Balze and White socks
Registration(s):
AQHA
Little Zero Badger has earnings of $23,338. She was the El Cid Open Futurity Reserve Champion, and 4th in the PCCHA Open Futurity. She was also a finalist in the Nebraska CHA Open Futurity & a Wrangler Open Futurity finalist.
She has produced offspring that have earned $17,930 including Classy San Peppy by Monte Rondo, an NCHA money earner, Movin Hickory Badger by Doc's Hickory ($8,896 NCHA) and Smart Little Ramrod by Smart Little Lena (NRHA Futurity Finalist, NRBC Futurity Finalist, $8,968 NRHA, AQHA Superior ROMs in Heeling and Reining, and WFQHA World Champion in Reining and Working Cowhorse)